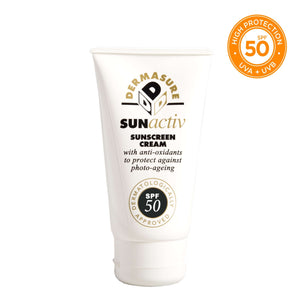 Pharmaceutical | 75ml
SUNScreen 3in1
Cream SPF50
Sale price Price R140.95 Regular price R0.00 Unit price / per

DERMASURE® SUNScreen 3in1 Cream SPF50 is a 3-in-1 multi-purpose Sunscreen Cream. It moisturizes, provides sun protection, and contains anti-oxidants to prevent skin damage. It absorbs quickly leaving no residue.
Unique sunscreen in an innovative formulation that goes into the skin for invisible protection against daily environmental challenges. Suitable for most skins but especially for dry, dehydrated skins requiring more moisture.

Dermatologically Approved.



Sunactiv technology increases the effectiveness of the filters to neutralize harmful free radicals that can cause damage to DNA that can lead to premature ageing as well as skin cancer.
A multi-purpose sunscreen cream that provides broad-spectrum protection by reducing the risk of skin ageing. It contains a moisturizing base, plus anti-oxidants, for the protection of the skin against daily sun damage.
1. Is SPF 50 good for daily use?
Yes, SPF 50 is good for daily use as it provides high protection against harmful UV rays. However, reapplication is necessary every two hours if you are exposed to the sun.
2. How long does SPF 50 last?
SPF 50 lasts for about two hours, after which it starts to lose its effectiveness. Reapplication every two hours or after sweating or swimming is recommended for continued protection.
3. What SPF sunscreen is best?
The best SPF sunscreen is one that provides broad-spectrum protection against both UVA and UVB rays and has a minimum SPF of 30. However, the ideal SPF may vary depending on your skin type and the amount of sun exposure.
4. How much SPF is needed for the face?
A minimum of SPF 30 is recommended for the face to protect it from the harmful effects of the sun's UV rays. However, higher SPF values like 50+ are better for prolonged sun exposure or sensitive skin.
Suitable for Adults and Teenagers.

DERMASURE® SUNScreen 3in1 Cream SPF50: Ingredients

Aqua, octocrylene, octyl methoxycinnamate, methylene bis-benzotriazolyl tetramethylbutylphenol, cetearyl alcohol, butyl methoxydibenzoylmethane, bis-ethylhexyloxyphenol methoxyphenyl triazine, dicetyl phosphate, ceteth-10 phosphatem, steareth-21, diethylamino hydroxybenzoyl benzoate, phenoxyethanol, propylene glycol, cetearyl glucoside, steareth-2, ethylhexylglycerin, sodium hydroxide, sodium EDTA & BHT.



More about Skin Type or Concern?
- Why SPF50 is important: Here


In which Packs is this product?
Sun Starter Pack (3 units)
Daily Skincare Pack (5 units)
Sun Protection Pack (5 units)
Sunblock
Good product but 50+ did not agree with my daughter's sensitive skin should have taken the 30
SUNScreen 3in1<br> Cream SPF50
Been using this product for many years and love it
Great service
Speedy service , great product. Thank you so much
Excellent
Thanks for your excellent products & service
Sunblock
Good product but 50+ did not agree with my daughter's sensitive skin should have taken the 30
SUNScreen 3in1<br> Cream SPF50
Been using this product for many years and love it
Great service
Speedy service , great product. Thank you so much
Excellent
Thanks for your excellent products & service